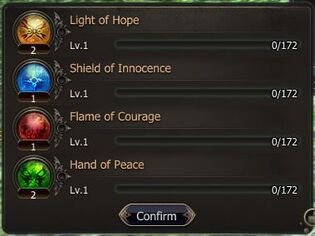 There are four types of Soul Skills that can be activated with purified souls. Two Chaos Souls are required to do a purification unless you perform a Co-op purification, in which case only one is needed. Co-op purification can be performed anywhere but a normal purification requires the player to be near a Soul Sanctum. 
Soul Skills have an experience bar that fills up by 2 each time they are used (seen on the picture as 0/172). The number is the amount of purified souls that must be spent in order to get to the next level (the number of uses is half of that). 
To use a Soul Skill, right click the Soul Skill hotkey slot, then select the Soul Skill you would like to use to assign it to the hotkey (T). All Soul skills have a shared 2 minutes cool down time. 
At level two, all Soul Skills provide an additional 20% Movement Speed bonus on activation, except for Shield of Innocence.
There are 6 levels of each soul skill.
Souls needed
Lv. 1 -> Lv. 2
172
Lv. 2 -> Lv. 3
632
Lv. 3 -> Lv. 4
2012
Lv. 4 -> Lv. 5
14544
Lv. 5 -> Lv. 6
21816
Light of Hope
Edit
Color: Gold
Duration: 30 seconds
Cooldown: 2 minutes
| Level | Buff |
| --- | --- |
| Lv. 1 | CRIT ACC/Piercing +10%, ATK SPD/Casting SPD +15%, EXP gained +20% |
| Lv. 2 | CRIT ACC/Piercing +11%, ATK SPD/Casting SPD +15%, Move SPD +20%, EXP gained +20% |
| Lv. 3 | CRIT ACC/Piercing +12%, ATK SPD/Casting SPD +15%, Move SPD +20%, EXP gained +20% |
| Lv. 4 | CRIT ACC/Piercing +14%, ATK SPD/Casting SPD +15%, Move SPD +20%, EXP gained +20% |
| Lv. 5 | CRIT ACC/Piercing +16%, ATK SPD/Casting SPD +15%, Move SPD +20%, EXP gained +20% |
| Lv. 6 | CRIT ACC/Piercing +18%, ATK SPD/Casting SPD +15%, Move SPD +20%, EXP gained +20% |
Shield of Innocence
Edit
Color: Blue
Duration: 15 seconds
Cooldown: 2 minutes
Level
Buff
Lv. 1
DEF/PvP DEF +30%, EXP gained +20%
Lv. 2
DEF/PvP DEF +35%, Move SPD +20%, EXP gained +20%
Lv. 3
DEF/PvP DEF +40%, Move SPD +20%, EXP gained +20%
Lv. 4
DEF/PvP DEF +45%, Move SPD +20%, EXP gained +20%
Lv. 5
DEF/PvP DEF +50%, Move SPD +2

0%, EXP gained +20%

Lv. 6
DEF/PvP DEF +55%, Move SPD +2

0%, EXP gained +20%
Flame of Courage
Edit
Color: Red
Duration: 30 seconds xd
Cooldown: 2 minutes
Level
Buff
Lv.1
ATK +16%, ATK SPD/Casting SPD +15%, EXP gained +20%
Lv. 2
ATK +18%, ATK SPD/Casting SPD +15%, Move SPD +20%, EXP gained +20%
Lv. 3
ATK +20%, ATK SPD/Casting SPD +15%, Move SPD +20%, EXP gained +20%
Lv. 4
ATK +22%, ATK SPD/Casting SPD +15%, Move SPD +20%, EXP gained +20%
Lv. 5
ATK +24%, ATK SPD/Casting SPD +15%, Move SPD +20%, EXP gained +20%
Lv. 6
ATK +26%, ATK SPD/Casting SPD +15

%, Move SPD +20%, EXP gained +20%
Hand of Peace
Edit
Color: Green
Duration: 15 seconds
Cooldown: 2 minutes 
Level
Buff
Lv. 1
Max HP +20%, Removal+Immunity to disabling effects for 2 sec, EXP gained +20%
Lv. 2
Max HP +24%, 

Removal+Immunity to disabling effects for 2 sec

, Move SPD +20%, EXP gained +20%
Lv. 3
Max HP +28%, 

Removal+Immunity to disabling effects for 2 sec

, Move SPD +20%, EXP gained +20%

Lv. 4
Max HP +32%, 

Removal+Immunity to disabling effects for 2 sec

, Move SPD +20%, EXP gained +20%

Lv. 5
Max HP +36%, 

Removal+Immunity to disabling effects for 2 sec

, Move SPD +20%, EXP gained +20%

Lv. 6
Max HP +40

%, 

Removal+Immunity to disabling effects for 4 sec

, Move SPD +20%, EXP gained +20%
Soul Skill Effects
Edit