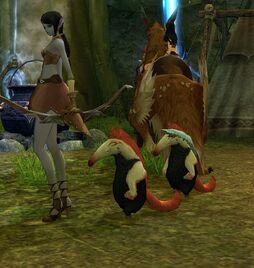 A pet is a creature that follows the player. Pets serve certain purposes and are divided into 2 categories: 
Packrat: They loot monsters on behalf of the player. 
Storage: They serve as extra storage. 
Like many things ingame, pets also have a usage period which ranges from 3 to 30 days. When the usage period expires your pet will not disappear but become dormant instead. You can use an Hourglass item to extend or re-initiate the timer. 
Items left inside a Storage Pet will not disappear when the usage period is over, but you will only be able to retrieve them only once your pet is made active again. 
The maximum amount of pets that you can have in your registry is 100. You can access your Pet registry by clicking CTRL+T.
Acquisition
Edit
You can obtain pets your first pet by completing the quest line. After that, you can obtain pets from Magic Lamps, for AP or Magic Eggs via the Cash Shop, the webmall, from GM Events or from fellow players via the Marketplace.
There are three pets that you can get in-game (apart from the AP shop):
Pet Tools and Achievements
Edit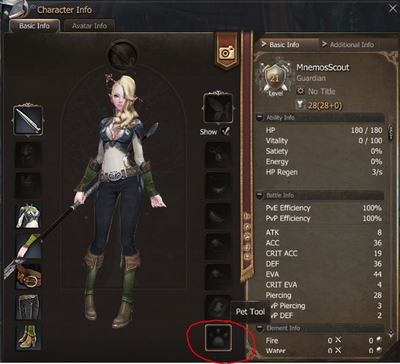 Sometimes, obtaining certain pets will count towards Achievements that will award special items when completed. These are called Pet Tools and are a type of non tradable Jewelry that increases PvP DEF, ATK and DEF stats.
Below, you have a list of all achievements giving players a Pet Tool. There are also three basic achievements:
Responsible Owner: Adopted a pet for the first time
Pet Parent: Adopted 10 pets
Menagerie Manager: Adopted 50 pets
Achievement
Pet Tool Name
Pets Required
Stats Obtained
Extra Information
Soulkeeper's Best Friends
White Pet Whistle
White Anteater

White Marten

Level Up Reward:

Obtained at lv. 40

They Followed Me Home
Blue Pet Whistle
Blue Angora

Chestnut Lemur

Magic Lamp
Pinch Me, I'm Dreaming!
Pincer Medallion
Hermit Crab

Coconut Crab

Event / Seasonal:

Summer Event

Flying Familiars
Sky Pet Whistle
Blue Ciskai

Moon Fairy

Magic Lamp
A Zoo of Two
Pink Pet Whistle
Pink Angora

Grey Lemur

Magic Lamp
Spirit of the Wind
Heavenly Pet Whistle
Pink Ciskai

Forest Fairy

Magic Lamp
Winter Wonderland
Angel's Pet Whistle
Snowman

Jack o' Lantern

Event / Seasonal:

Halloween Event

Christmas Event

Dynamic Duo
Ravenous Beast Necklace
Black Piglet

Red Bear

Magic Lamp
Bear With Me
Wild Beast Necklace
Pink Piglet

Polar Bear

Magic Lamp
Man's Worst Friend
Radiant Blue Pendant
Blue Harry

Azure Cobra Lily

Magic Lamp
Small and Harmful
Radiant Red Pendant
Red Harry

Scarlet Cobra Lily

Magic Lamp
Pet Types/Families
Edit
Pet
Perk
Available in...

Blue Angora
Packrat

Pink Angora
Packrat

White Anteater
Packrat

Yellow Anteater
Packrat

(My First Pet Pack in July 2015)

Blue Baby Llama
Packrat

Brown Baby Llama
Packrat

Polar Bear
Packrat

Red Bear
Packrat

Cerulean Bird
Storage (12)

Rose Bird
Storage (12)

Blue Ciskai
Storage (12)

Pink Ciskai
Storage (16)

Azure Cobra Lily
Packrat

Jade Cobra Lily
Packrat

Scarlet Cobra Lily
Packrat

Coconut Crab
Storage (12)

Hermit Crab
Storage (12)

Blue Cubix

Packrat

+1000 HP

1 Year Echo of Soul Event

Yellow Cubix

Packrat

+1000 HP

Forest Fairy
Packrat

Moon Fairy
Packrat

Luna's Servant

Packrat

+1000 HP

Blue Harry
Packrat

Green Harry
Packrat

Red Harry
Packrat

Jack-o'-Lantern
Packrat

Chestnut Lemur
Storage (12)

Grey Lemur
Storage (12)

Special Grey Lemur
Storage (16)

Black Marten

Storage (12)

White Marten
Storage (12)

Special Black Marten
Storage (16)

Special White Marten
Storage (16)

Red Panda
Packrat

Black Panther
Storage (12)

Molten Panther
Storage (12)

Black Piglet
Storage (12)

Pink Piglet
Storage (16)

Junior Promethean
Packrat

Snowman
Packrat

Pyrite Spider
Packrat

Rosehide Spider
Packrat

Black Tin Knight
Packrat

Golden Tin Knight
Packrat

Black Tori
Storage (12)

Exclusive from Episode 1.5 Starter Pack

White Tori
Storage (12)

Exclusive from Episode 1.0 Founder's Pack

Brown Wolf
Packrat

Snow Wolf
Packrat
Some versions of the Blue and Brown Baby Llama are both Packrats and Storage pets. These are very rare.