Welcome to the Echo of Soul Wiki
Echo of Soul is a Korean based MMORPG that was redesigned and recently launched for NA and EU players and was published by Aeria Games. This wiki is a collaborative resource for the game and all information should be kept relevant to game content. Guild Recruitment is welcome in the Forums. Everyone is welcome to come edit and add their knowledge!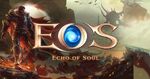 Echo of Soul is an MMO that is coming to the US and Europe in May of 2015. Versions of this game are already being played in other countries. Developers of the game state that the game will have 68 areas and over 1600 quests at launch and that it will contain everything an MMO Player could ever want (apart from a dedicated healing class). Gameplay will have both PVE and PVP options and top tier items will drop in both solo and group play. This game is being produced and published by Aeria Games. For more information and to learn the story behind Echo of Soul, go to our game page.